ETF Génie Civil Ferroviaire is a specialist in this field, because of its understanding of standards, safety and rail logistics, which includes works in restricted areas.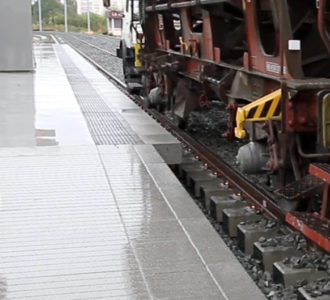 Its activity is based around two main fields of expertise:
different types of rail network civil engineering
work on platforms
Plus two particular fields of expertise:
concrete tracks


(rails over maintenance workshop pits, for example)

Tancarville worksites


(provisional suspension of ground-level networks during structural works on bridges and tunnels)
ETF also delivers ditch-concreting services and sleepers under rails, construction of passenger platforms and automatic announcements on worksites, and trains travelling on restricted lines.
References:
The temporary TGV workshop in Bischheim.
ETF is involved in a project to build a temporary workshop for 2 x 200m of line to be WIFI-enabled. ETF Génie Civil Ferroviaire did the foundation and concrete slab works for the project. This is the national rail operator's temporary functional workshop but is designed to offer the same facilities as a permanent one. It occupies 3,000m² with all the requisite networks.
Rail crossings in Douai.
As part of the Douai CCR project (central network control), a major modernization programme was undertaken on the operational, control and traffic system designed to improve network management and reduce operating costs. Our personnel worked for 8 months in all, installing 1.5km of dry networks which crossed the tracks over 200 times, to receive the various cables to service the SNCF's facilities.
Railway Civil Engineering presentation : Atelier temporaire TGV at Bischheim :