Whether national, regional or capillary lines, high speed lines, urban or industrial lines, we install and maintain infrastructure elements (ballast / concrete, ties, rails, overhead contact lines) as well as track levelling for optimal service quality.
Our complementary skills ensure the sustainability of our customers' transport systems. On the basis of our resources and experience, we can provide our customers with structured organisation, innovative working methods, local presence and, of course, men and women whose ambition is to be leaders on the rail market.
For the national rail network's traditional and high-speed tracks, siding terminals and port rail facilities, ETF deploys its talents in the design, manufacture, maintenance and complete renewal of rail elements. All of its track-related missions serve the durability of transport systems, and guarantee an optimised level of service for our customers' service users.
ETF also performs maintenance and refurbs of urban transport networks (metros and trams), for which the first major refurbishment operations have begun in France.
Organisation planning, track laying with ballast or concrete, laying roller tracks, laying or replacing points and crossings, renewing rails, sleepers and ballast, ETF masters all processes guaranteeing the quality of rail tracks for enhanced network performance.
National rail networks
ETF performs construction and maintenance work on national lines, including high-speed lines.
Recognised for its high performance, innovative technologies, its expertise is applied to various areas: track and ballast renewal, national railway line maintenance, laying and refurbishment of high-speed lines, trackbed cleaning, ballast reprocessing, civil engineering, rail signalling, and aluminothermic and electrical welding.
National rail network (NRN) references:
Vigirail
ETF is involved in the national Vigirail project, designed to satisfy SNCF Réseau's strategic priority: the renewal of rail crossings and points and better maintenance of the rail network to improve safety and frequency.
---
Zone Dense
ETF modernises rail infrastructure. TEVO engineering trains (ballast clearing and substitution trains, sleeper tampers and dynamic stabilisers) bring major innovations to get around working constraints in the congested (operating time, length of engineering trains, re-establishing 80 kph lines, platform areas, etc.)
---
LGV SEA
The high-speed Southern-Europe-Atlantic line is ground-breaking, titanic and exemplary. VINCI, Eurovia et ETF carried off the challenge with gusto, allowing the 340 kph line linking up Paris de Bordeaux in 2 hours to enter service within 5 years.
Urban transport
Since 1898, ETF has been a key player in developing urban transport in France and abroad. Its numerous references in metal and rubber-wheel systems have made it a recognised leader in the rail industry.
Having been part of the very first Parisian metro line project, ETF is now involved in developing metro systems throughout the world. The company is contributing to the refurbishment and extension of trams dating back to the 1980s, and has laid more than 550 km of track in France. ETF provides maintenance for urban tracks, extending the service life of infrastructure through preventative and curative maintenance.
Urban Transport References:
RATP Maintenance. ETF is a long-term partner to the RATP. The company maintains infrastructure, modernises operating systems and equipment during short 3-hour night shifts to avoid disrupting traffic and improve the passenger experience.
Line 11 of the Paris Metro. ETF will be making its contribution to linking up the inhabitants of the east side of Paris to the capital. This line extension, a territorial project par excellence includes 1km of tunnel track, 1km of viaduct and 1.3km on ballast.
The Strasbourg Tram System. To link up Strasbourg to its German neighbour Kehl via the Line D extension, ETF has laid 4km of new track, 3 switches, 4 expansion joints and an ultra-thin bed suspension bridge over the Rhine.
Maintenance of the Nantes Tram System. ETF was chosen for 4.5km of track renewal at the heart of the conurbation of Nantes. The particular restrictions surrounding hyper-centre works require flawless timing and pinpoint precision to interface with road traffic.
---
Siding terminals
ETF lays and maintains industrial and private tracks as well as building multi-modal stations. ITE's activity is regionally structured, providing optimal coverage throughout France. Its teams can intervene at very short notice on new project designs, creation of cableways, existing network reconfiguration, laying and maintenance of ballast and concrete track, laying and maintenance of ground and raised track and funicular systems.
ITE's activities combine competencies in multiple industrial sectors for a range of customers, including municipal councils and local authorities.
I.T.E REFERENCES :
The maritime port of Marseille. After a major project in 2016 involving 7km of track renewal featuring sleeper tampering, ETF continues a partnership that began with RFF's retrocession of port authority tracks from the port of Marseilles to Fos-sur-Mer. Track elements (ballast, rail and sleepers) were completely replaced over a 900m stretch.
Arcelormittal. For many years, ETF has maintained the private rail network of the metallurgy giant on its Florange, Dunkirk and Fos-sur-Mer sites. Each site employs 10-30 ETF workers according to workload, to maintain track, signalling and crossings and switches 24 hours per day, to ensure production flows out of the Arcelormittal sites.
From trams to high speed systems, ETF Caténaires et Énergie performs all types of electrification works, ranging from construction of overhead contact line networks to maintenance and refurbishment via electrical protection of worksites.
The company's engineering office is fully equipped to design, study and create the plans needed for the worksite teams to build and reconfigure electrically-driven lines.
ETF Caténaires et Énergie is also present in urban transport for overhead contact lines and power supply including heavy current. In these projects, it is responsible for all elements: design studies, supply, completion, testing and commissioning.
References
Support base at Brétigny
For the upgrade works on the support base for the rapid track laying operations in the "Dense Zones" of Brétigny-sur-Orge for SNCF Réseau, ETF performed, amongst other things, the overhead contact line works. On a project that can only be described as a race against the clock, 10km of overhead contact lines were removed and 1km installed over a period of 3 months. On top of that, posts, fulcrums, flexible cross-span suspensions, power units and section insulators were removed and installed.
ATM refurbishment
For the Paris Rive Gauche urban planning project, ETF teams did an overhead contact line rework to protect tracks from Austerlitz to Paris' inner ring in preparation for new shops, offices and housing.
Nice tram system
This maintenance centre project for the East-West line was completed in coordination with the Grands Projets de Transports Urbains agency for the tracks and EUROVIA for the platform. Works began in October 2017 and were completed in mid-March 2018, before the commissioning test phase. The conditional tranche of the contract will be firmed up for another overhead contact line project due to begin in July 2018.
ETF Services' activities include securing worksites, managing closed-line operations and moving on-track worksite machinery and rolling stock.
---
Preparation of freight trains, technical and safety inspections on trains, management of operations and ground safety features, train haulage, piloting autonomous engines and operational monitoring of trains on the national rail network are all services provided by ETF Services.
ETF implements and modifies signalling circuits and installations, switching and points stations, level crossings, fibre optics laying, removal, reinstallation and commissioning of signalling equipment during rail refurbishment projects, and technical inspections and tests. A lot of its business is in the maintenance of industrial sidings covered by multi-year contracts.
RÉFÉRENCES SIGNALISATION :
Autonomous Port of Strasbourg
Further to the construction of a new port terminal on the Rhine river in Lauterbourg, the Autonomous Port of Strasbourg selected ETF to deploy an innovative solution to remotely control their new cabling systems. ETF developed an industrial-grade IT supervision system combined with NS1 technologies to allow our client to remotely control rail itineries 60 km away from its facilities via the telecoms network.
The Station at Epinay
As part of the SDA project (accessibility master plan), ETF reconfigured the signalling system in and out of Epinay station, which involved moving the signalling bridge and recreating the corresponding signalling identically to before. The Signalling team's know-how in overhead works also won us the contract for the modification of the signalling bridge at Persan station, again under the SDA project.
ETF Génie Civil Ferroviaire is a specialist in this field, because of its understanding of standards, safety and rail logistics, which includes works in restricted areas.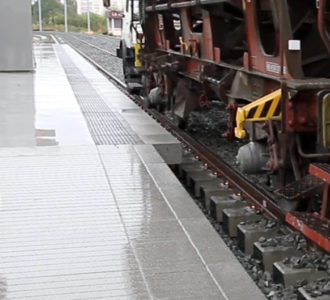 Its activity is based around two main fields of expertise:
different types of rail network civil engineering
work on platforms
Plus two particular fields of expertise:
concrete tracks


(rails over maintenance workshop pits, for example)

Tancarville worksites


(provisional suspension of ground-level networks during structural works on bridges and tunnels)
ETF also delivers ditch-concreting services and sleepers under rails, construction of passenger platforms and automatic announcements on worksites, and trains travelling on restricted lines.
References:
The temporary TGV workshop in Bischheim.
ETF is involved in a project to build a temporary workshop for 2 x 200m of line to be WIFI-enabled. ETF Génie Civil Ferroviaire did the foundation and concrete slab works for the project. This is the national rail operator's temporary functional workshop but is designed to offer the same facilities as a permanent one. It occupies 3,000m² with all the requisite networks.
Rail crossings in Douai.
As part of the Douai CCR project (central network control), a major modernization programme was undertaken on the operational, control and traffic system designed to improve network management and reduce operating costs. Our personnel worked for 8 months in all, installing 1.5km of dry networks which crossed the tracks over 200 times, to receive the various cables to service the SNCF's facilities.
Railway Civil Engineering presentation : Atelier temporaire TGV at Bischheim :